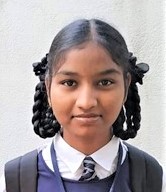 Dharani Beemulapally
Dharani's parents passed away when she was very young. She went to live with her aging grandparents who struggled to provide for her needs. Since being at the home, Dharani has been doing well in school and is thankful for the opportunity to study. Her dream is to become an advocate for the people in her country.
Community
Alpha Girls Home
Dharani's Unmet Needs
Basic Needs
Your monthly sponsorship will provide for your child's food, clothing, medical care and adult care for your child.
Primary School
Your monthly sponsorship provides what is needed for your child to receive a quality education. These needs include a school uniform, school supplies and books.
Review your selections and confirm your payment on the following page
Total required to fully sponsor Dharani: $39